Plummer votes in defense of conservatism
State Senator Jason Plummer is one of only six state senators with an 80 percent or higher voting record on the American Conservative Union Foundation's Ratings of the States.
Sen. Plummer received the highest rating in the Illinois Senate for his support of conservative principles in range of proposed legislation.
"Currently, Republican lawmakers are in the super-minority in the Senate, but just because our numbers are small doesn't mean we shouldn't stand up for our constituents and their conservative values," said Sen. Plummer. "I am proud to be an advocate for strong conservative principals of our state government."  
According to the ACU Foundation, ratings were awarded based on how lawmakers voted on selected bills focused on three area issues:
1) Fiscal and economic: taxes, budgets, regulation, spending, healthcare, and property;
2) Social and cultural: 2nd amendment, religion, life, welfare, and education; and
3) Government integrity: voting, individual liberty, privacy, and transparency.
The average Republican score in the Illinois Senate for Republican lawmakers was 73 percent. The average score of Democrat lawmakers in the Senate was 14 percent.

Local businesses receive hundreds of thousands in relief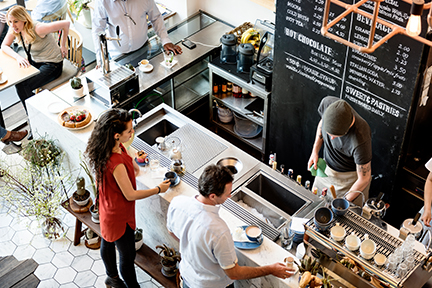 Throughout our communities, businesses hit hardest by the COVID-19 pandemic are receiving the assistance they so desperately need, says State Senator Jason Plummer (R-Edwardsville).
The Illinois Department of Commerce and Economic Opportunity has released $46 million in small business grants through the Business Interruption Grant program to 2,655 businesses throughout the state. In the 54th Senate District, $470,000 has been distributed to 29 businesses.
"Our small business community has been hit hard by the COVID-19 pandemic and many of our smaller employers are still struggling to this day," said Sen. Plummer. "These grants will hopefully provide much-needed relief to some of our businesses who are working hard each-and-every day just to survive."
Grant amounts range from $10,000 to $20,000 and may be used to help businesses with expenses such as payroll, rent, utilities, and equipment brought on by COVID-19 related restrictions. Businesses that saw property damage and closures due to the recent civil unrest also qualified for these grants.
Click here to see a list of businesses within the 54th District that were awarded grants.


Deadline Extended for those Applying for Nutrition Benefits Amid Ongoing COVID-19 Pandemic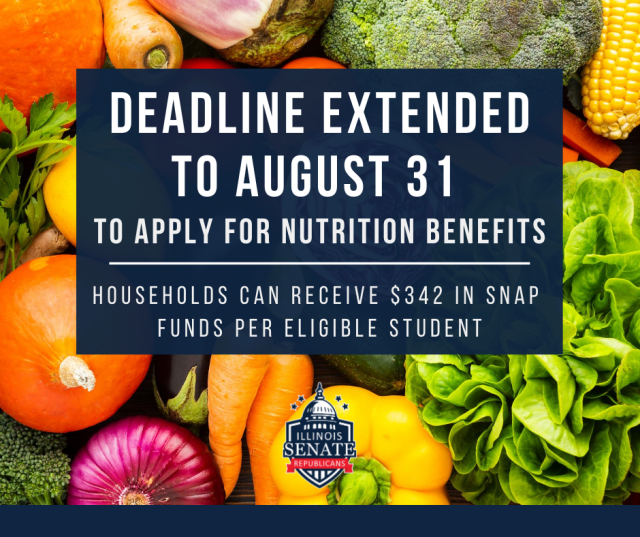 The Illinois Department of Human Services (IDHS) has extended to August 31 the deadline for Illinoisans to apply for nutrition benefits. Eligible applicants are able to receive up to $342 per eligible student in food benefits. To date, around 390,000 students who are currently eligible for the Illinois Pandemic Electronic Benefit Transfer (P-EBT) program have not yet applied.
The P-EBT program, which is authorized and funded by the U.S. Department of Agriculture (USDA), was created to bring food benefits to all school-aged children who are eligible for free or reduced meals at their schools through the National School Lunch Program.
The P-EBT program has already provided more than $246 million in additional nutrition benefits to more than 730,000 Illinois children.  Benefits are calculated using a $5.70 per-day and per-student formula. These benefits apply to households with school-aged children who were eligible for free or reduced meals from March 2020 through June 2020. Eligible Benefit Amounts are:
· $182.40= March & April 2020
· $119.70= May 2020
· $39.90= June 2020
Those who did not receive SNAP benefits last spring are able to submit a simplified application for P-EBT benefits using ABE.Illinois.gov online portal or by completing a paper application, which is available at the IDHS website.
For additional information on the P-EBT program, go to https://www.dhs.state.il.us/page.aspx?item=124142.


New App for Illinois' outdoorsmen and women
Recently, the Illinois Conservation Foundation (ICF) announced the launch of a new mobile app for Illinois' outdoorsmen and women.
The new app called Outdoor Illinois is free and available for both iPhone and Android systems, providing users information in areas of hunting, fishing, boating and camping.
ICF also says that the app can be used to purchase hunting and fishing licenses, find places to hunt and fish, view state and national fishing records, register new boats and renew boat registration, access a list of Illinois state parks, learn more about camping and campsite and shelter reservations, set reminders for upcoming seasons and renewal dates, donate to the ICF and more.


Boat Access Area Development Program accepting applications  
The Illinois Department of Natural Resources (IDNR) recently announced they are accepting applications as part of their Boat Access Area Development (BAAD) grant program.
According to IDNR, the grant program provides financial assistance to local government agencies for the acquisition, construction, and expansion and rehabilitation of public boat and canoe access areas on Illinois' lakes and rivers.
In order to be eligible for the grant, local agencies must demonstrate the ability to finance the costs of an approved project prior to receipt of grant funds. The grant program can provide up to 100 percent reimbursement funding assistance on approved development project costs and 90 percent of approved land acquisition costs.  
The deadline to apply is Oct. 2, 2020. Interested applicants should visit https://www2.illinois.gov/dnr/grants/Pages/BoatAccessAreaDevelopmentProgram.aspx.