In the wake of an increasing pension crisis, State Senator Jason Plummer (R-Edwardsville) joined several Republican lawmakers and the president of Wirepoints for a press conference on May 5 to address the worsening public safety pension debt in Illinois.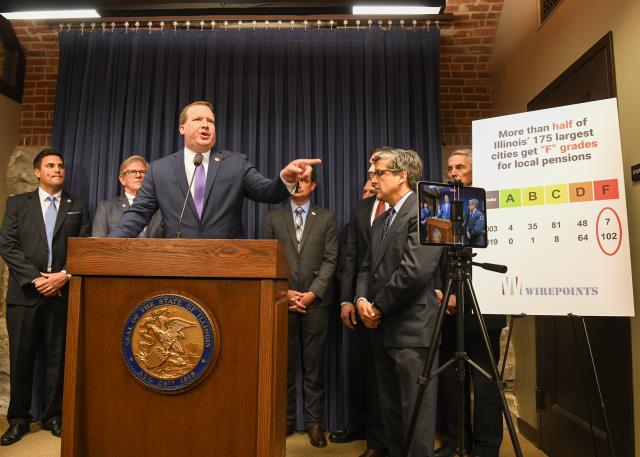 Wirepoints, a public finance watchdog, reviewed 175 of the largest cities across Illinois based on ten equally-weighted metrics, comparing finances of municipalities between 2003 and 2019. Metrics used included the funding ratio of each local pension system, pension debt of households, and costs of pensions from city budgets. Of the 175 municipalities reviewed, 102 municipal pension funds received a failing grade.
"This isn't a problem that will just go away," said Sen. Plummer. "The burden will continue to grow, people will continue to leave the state and local resources will continue to be depleted as long as lawmakers in Springfield ignore the issue."
In the press conference, lawmakers noted that taxpayers cannot withstand the ever-growing burden being placed on their shoulders and those with pensions continue to fear for the security of their retirement.
"This press conference was meant to put data out there for the public to see firsthand the damage this crisis is having on the future of our state," said Senator Plummer. "We cannot continue to kick the can down the road and hope this crisis goes away."
According to Wirepoints, key findings from the report included:
Workers' retirement security has declined in an alarming number of Illinois cities.
City taxpayers have increasingly paid more to pensions over the past 16 years, and yet the pension shortfalls they are on the hook for are far larger today.
Pension costs as a share of city budgets have doubled.
Most local pension funds have more retirees drawing benefits than active workers contributing.
Senator Plummer noted that despite the worsening pension outlook and with just weeks left in this year's spring legislative session, no substantive conversations about the pension crisis are being held at the state level.
Click here to read the full summary of the report.