Governor bounces budget check, passes the blame  
On December 15, Illinois Governor J.B. Pritzker ordered approximately $700 million in budget cuts. Governor Pritzker argued that the reductions were necessary, citing the need to compensate for a roughly $4 billion budget shortfall left in the wake of the failure of the controversial graduated income tax amendment.
Senate Republicans note that the fiscal crisis Illinois currently faces is a direct result of Democrat lawmakers' choice to support a budget that recklessly relied on a federal bailout, borrowed money and demanded even more from taxpayers' pockets.
Earlier this year, the majority party voted to pass an out-of-balance budget which increased the state's spending to $43 billion. The irresponsible spending plan relied on over $6 billion in unsubstantiated federal aid and borrowing, and hinged on the voters support of the controversial graduated income tax come election time. Senate Republicans voted against the partisan budget, arguing that the actions taken by the Democratic-majority, especially in the midst of an unprecedented pandemic, were irresponsible and dangerous.
In November, Illinois voters cast their ballots to reject replacing Illinois' current flat income tax with a graduated tax system. Senate Republicans opposed the amendment, arguing that Democrat lawmakers were writing themselves a blank check that would fall directly on the backs of Illinois middle-income families.  ​
Senate Republicans say that unless meaningful, bipartisan reforms are embraced and lawmakers reject shortsighted, negligent spending proposals, Illinois' financial future will only continue to deteriorate.
Hunters Making the Most of 2020
Preliminary numbers from the Illinois Department of Natural Resources (IDNR) show hunters taking more deer this year during the two primary firearm seasons.
Statewide, hunters harvested 76,529 deer during the 7-days of firearm hunting in 2020, which is up from 75,417 in 2019. The year-over-year increase was primarily due to the second segment of the firearm season (December 3rd – 6th), with hunters taking 29,432 deer compared to just 25,186 during the same segment in 2019.
Hunters still have a few more chances to bring home some venison, with the Muzzleloader Season running from December 11th – 13th, Late-Winter Antlerless Deer Season and CWD Deer Season running from December 31st through January 3rd, and the remainder of the archery season open until January 17th.
For more information, click here. 
Illinois has four-phase plan to distribute COVID-19 vaccines
Illinoisans will have access to COVID-19 vaccines based on federal guidelines, according to an Illinois Department of Public Health (IDPH) plan that has a four-phase approach to distribution.
The first shipment of the vaccines arrived Dec. 14 at regional distribution centers in Illinois.
State health officials caution that the plan is subject to change, however, as conditions change relating to the status of COVID-19 cases within Illinois, or if the federal government issues additional guidelines.
The initial supply of COVID-19 vaccine doses available is limited, so first efforts will be focused on making it available to critical populations, and ensuring that storage, distribution and reporting systems are sufficient and operational.
In Phase 1, those groups expected to receive first vaccines are healthcare personnel and residents of long-term-care facilities.
Pending further recommendations by the Advisory Committee on Immunization Practices (ACIP), a committee within the United States Centers for Disease Control and Prevention, other initial groups could include essential frontline workers, adults with high-risk medical conditions, and those older than 65.
In Phase 2, as more vaccine doses become available, the focus will be on ensuring access to vaccine for members of Phase 1 critical populations not yet vaccinated, then extending efforts to reach Phase 2 critical populations. Pending further recommendations by ACIP, possible Phase 2 groups could include workers in industries and occupations important to the functioning of society, and people with moderate comorbid conditions.
In Phase 3, as vaccines are even more widely available, and pending further ACIP recommendations, possible groups could include children, if a pediatric vaccine is approved/available; and young adults (ages 18-30).
In Phase 4, with the supply of vaccine doses available for the entire state, and pending further ACIP recommendations, the focus will be on everyone who is qualified and who wants a COVID-19 vaccine.
Check https://dph.illinois.gov/covid19/vaccination-plan for more information about the IDPH's COVID-19 Vaccination Preparedness Plan, as well as answers to frequently asked questions about the plan.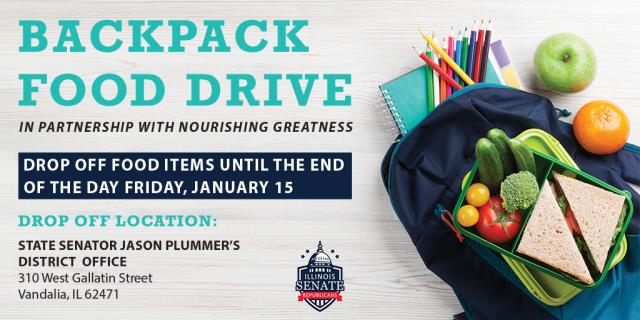 Reminder: I will be partnering together with the Nourishing Greatness program to collect food for their weekend food program.
Nourishing Greatness is a local food program focused on eliminating hunger and raising awareness about the widespread problem of childhood hunger. The goal of the organization is to send at least 4.5 meals home with Vandalia students in need who might otherwise go without meals over the weekend.
I will be using my Vandalia District Office as a food drop-off location to benefit the program. Through January 15, interested donors may drop off non-perishable food items at my office, located at 310 West Gallatin Street in Vandalia.